Where are they Located?
Dalong Street Night Market is located at the front of the Confucius Temple. I think the sign is outstanding. so you can not miss it.
Here sounds pretty local. It is also good to visit here after the Confucius Temple worship.
Here is a mini night market of about length 200m. Visitors of this night market are mostly local people, you can enjoy the traditional taste of Taiwan here.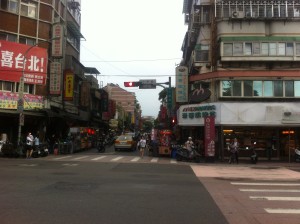 They are a night market but cars and motorcycles goes through the night market. Please be careful of cars.
The sidewalks are lined with dining table.
many Shops are open during the day.This is Tainan danzi noodle shop.moreover there are sheep meat restaurants etc. This night market has many sheep meat restaurants.
By the entrance of Dalong Street Night Market, restaurant called 『麻辣臭豆腐』 is a popular.
It is good to visit on the way of visiting to Confucius Temple. You can see the Normal life of Taipei people here.
Address
Dalong Street Night Market
Access: yuanshan station exit 2
Dalong St, Datong District, Taipei City, 103