Most of Post office in Taipei are closing at weekends. but few still open. They are very convenience.



One is small post office in Taipei main station.
They open 8:30~12:00(sat/sun). The only one counter is open, so you need to make a line normally.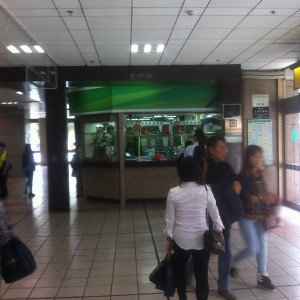 Another one is Taipei post office at Beimen.
They open on sat 8:30~12:00, sun 8:30~12:00. for the weekday, they open till 21:00.
They close on special holiday, new years.
here is their open hour.
http://www.post.gov.tw/post/internet/index.jsp
臺北北門郵局
(臺北901支) 臺北市中正區忠孝西路1段118號 郵務:(02)2361-5752
儲匯:(02)2381-3135 郵務:07:30-21:00
儲匯:08:00-21:00
臺北螢橋郵局
(臺北6支) 臺北市中正區廈門街76號 郵務:(02)2368-4714
儲匯:(02)2367-0905 郵務:08:00-17:30
儲匯:08:00-17:00
臺北復興橋郵局
(臺北8支) 臺北市中正區忠孝西路1段1號 郵務:(02)2311-4421
儲匯:(02)2311-4421 郵務:08:00-17:30
儲匯:08:00-17:00
臺北中山郵局
(臺北9支) 臺北市中山區中山北路1段142號 郵務:(02)2542-6403
儲匯:(02)2542-5934 郵務:08:00-18:00
儲匯:08:00-17:30
臺北臺北橋郵局
(臺北21支) 臺北市大同區民權西路246號 郵務:(02)2557-8538
儲匯:(02)2550-2821 郵務:08:00-17:30
儲匯:08:00-17:00
臺北南陽郵局
(臺北33支) 臺北市中正區信陽街8號 郵務:(02)2361-3711
儲匯:(02)2375-4227 郵務:08:00-18:00
儲匯:08:00-17:30
臺北三張犁郵局
(臺北43支) 臺北市大安區信義路4段337號 郵務:(02)2709-6837
儲匯:(02)2701-5196 郵務:08:00-18:00
儲匯:08:00-17:30
臺北長安郵局
(臺北46支) 臺北市中山區長安東路2段97號 郵務:(02)2506-8771
儲匯:(02)2515-0399 郵務:08:00-18:00
儲匯:08:00-17:00
臺北光武郵局
(臺北53支) 臺北市大安區大安路1段52巷16號 郵務:(02)2781-6693
儲匯:(02)2721-1634 郵務:08:00-18:30
儲匯:08:00-17:30
臺北松江路郵局
(臺北55支) 臺北市中山區松江路364號 郵務:(02)2521-6681
儲匯:(02)2561-8954 郵務:08:00-18:30
儲匯:08:00-17:30
臺北延壽郵局
(臺北56支) 臺北市松山區民生東路5段12號 郵務:(02)2756-7232
儲匯:(02)2768-3079 郵務:08:00-17:30
儲匯:08:00-17:00
故宮郵局
(臺北59支) 臺北市士林區至善路2段221號(故宮博物院內) 郵務:(02)2881-8410
儲匯:(02)2881-8410 郵務:08:30-18:30
儲匯:08:30-17:00
臺北火車站郵局
(臺北64支) 臺北市中正區北平西路3號(台北火車站內) 郵務:(02)2311-4239
儲匯:(02)2311-4239 郵務:08:00-18:30
儲匯:08:00-17:00
臺北圓山郵局
(臺北65支) 臺北市中山區林森北路573號 郵務:(02)2592-1606
儲匯:(02)2592-1606 郵務:08:00-17:30
儲匯:08:00-17:00
臺北民權郵局
(臺北68支) 臺北市中山區民權西路22號 郵務:(02)2571-6241
儲匯:(02)2563-8027 郵務:08:00-18:00
儲匯:08:00-17:00
臺北汀州郵局
(臺北71支) 臺北市中正區汀州路3段301號 郵務:(02)2363-7009
儲匯:(02)2363-7009 郵務:08:00-17:30
儲匯:08:00-17:00
臺北華江橋郵局
(臺北79支) 臺北市萬華區和平西路3段310號 郵務:(02)2302-0953
儲匯:(02)2306-4473 郵務:08:00-17:30
儲匯:08:00-17:00
臺北金南郵局
(臺北91支) 臺北市大安區愛國東路216號 郵務:(02)2394-0804
儲匯:(02)2394-0804 郵務:08:00-17:30
儲匯:08:00-17:30
臺北永春郵局
(臺北99支) 臺北市信義區忠孝東路5段464、466號 郵務:(02)8788-1850-21
儲匯:(02)8788-1850-31 郵務:08:00-18:00
儲匯:08:00-17:00
臺北榮星郵局
(臺北101支) 臺北市松山區民權東路3段124之1、2號 郵務:(02)2712-7615
儲匯:(02)2715-4680 郵務:08:00-18:00
儲匯:08:00-17:30
臺北敦南郵局
(臺北108支) 臺北市大安區忠孝東路4段170巷9號 郵務:(02)2771-5334
儲匯:(02)2771-5334 郵務:08:00-18:00
儲匯:08:00-17:30
臺北興安郵局
(臺北112支) 臺北市中山區復興北路210、212號 郵務:(02)2504-3662
儲匯:(02)2504-3662 郵務:08:00-18:30
儲匯:08:00-17:30
臺北臺塑郵局
(臺北118支) 臺北市松山區民生東路4段54之2號 郵務:(02)2719-3473
儲匯:(02)2719-3473 郵務:08:00-18:00
儲匯:08:00-17:00
士林劍潭郵局
(臺北123支) 臺北市士林區基河路14號 郵務:(02)2885-9559
儲匯:(02)2885-6043 郵務:08:00-17:30
儲匯:08:00-17:00
北投郵局
(臺北131支) 臺北市北投區光明路181號 郵務:(02)2893-2922
儲匯:(02)2891-2420 郵務:08:00-19:00
儲匯:08:00-17:30
內湖郵局
(臺北148支) 臺北市內湖區民權東路6段83號 郵務:(02)2790-1070-13
儲匯:(02)2790-1070-11 郵務:08:00-19:00
儲匯:08:00-17:30
南港昆陽郵局
(臺北161支) 臺北市南港區忠孝東路6段400、402、404、406號 郵務:(02)2651-4945
儲匯:(02)2651-4945 郵務:08:00-17:30
儲匯:08:00-17:30