Where are they Located?
Shuang Cheng Street Night Market is very "small" Night Market where you can go from the MRT Zhongshan elementary school station.
You can also go from MRT mingquan east road station. They open from morning.
This night market's feature is that there is a big difference between day and night.
It is a very small night market but I could see some foreigners because there are a lot of bar nearby.
Here you can find most of Taiwan B-grade gourmet.
It is very walkable and also easy to find shops because scale is not large. 
This beef noodle stall is a popular restaurant. This beef noodle has full of meat, and their noodles is very soft.
Since the dumplings are firm with a taste in bean paste itself, You can eat them without any spice or source.
I recommend here. Sales of water dumplings are a lot ,so sometime 50 people are making a line to buy them.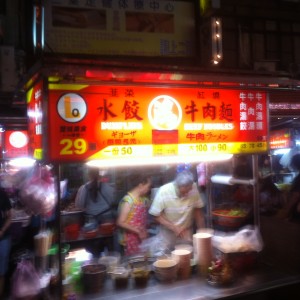 many local people are eating outside. I feel the night market is a local adhesion type.
Comparing with Shilin Night Market,Shuang Cheng Street Night Market is very local, and feel like homing.
Address
Shuang Cheng Street Night Market

No. 16, Lane 12, Shuangcheng St, Zhongshan District, Taipei City, 104
MRT Zhongshan elementary school station exit 1
Morning:08:00~16:00 NIngt:17:00~24:00