Gunkanjima has been officially recognized as a World Heritage Site.
So, what is Gunkanjima like? How to get there? How much does it cost? What are the precautions? We have compiled a list of the things you may be wondering about.
The island has been uninhabited since the 1974 closure of the mine.
In 2015, the International Council on Monuments and Sites (ICOMOS) inscribed the "Industrial Revolution of Meiji Japan: Iron and Steel Making, Shipbuilding, and Coal Industry," which includes the Hashima Island coal mine, on UNESCO's World Heritage List.
The area has become a national tourist attraction, having made its Hollywood debut as the model for the movie Skyfall, and as the filming location for the live-action version of Shinkage no Kyojin (The Titans).
It has also been officially registered as a World Industrial Heritage site by the United Nations Educational, Scientific and Cultural Organization (UNESCO), and many tourists visit the island to catch a glimpse of it.
Gunkanjima|4 recommended spots where you can see from land! A roundup of places you can see beautifully without going ashore on a tour!
What is Gunkanjima like?
Gunkanjima is an island located in Nagasaki City, Nagasaki Prefecture. Its official name is Hashima Island.
The island, which originally prospered from coal mining from the Meiji Era to the Showa Era, was home to approximately 5,300 people at its peak and boasts the world's highest population density, which is said to be nine times the population density of Tokyo! The population density of the island is said to be nine times that of Tokyo.
"Hashima Gunkan jima Nagasaki" by www.ehagaki-nagasaki.com – 長崎の手彩色絵葉書
The small island was a state-of-the-art place, complete with a police station, elementary school, rooftop amusement park, pachinko parlor, and even entertainment facilities such as a movie theater.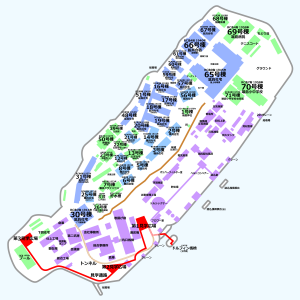 reference:"Nagasaki Hashima map ja" by Hisagi (氷鷺)
However, when the coal mines were closed in 1974, everyone left the island, and it is now uninhabited.
The name "Gunkanjima" comes from the island's resemblance to the warship "Tosa" in its appearance, with its wharf surrounding the entire island and lined with high-rise reinforced concrete buildings.
The island looks so much like a warship that there are rumors that the U.S. military actually mistook the island for a warship and attacked it during the war.
The drone video of Gunkanjima is amazing!
Right now, tours of Gunkanjima are being offered, and although it is possible to land on the island, it is not possible to enter the buildings due to the danger of collapse caused by the aging of the buildings.
Enjoy a video of what it looks like inside.
Here is a video taken by the Nishinippon Shimbun
Here is a video of 3D data of Gunkanjima created by the team of the Center for Infrastructure Longevity and the Gunkanjima 3D Project, Graduate School of Engineering, Nagasaki University.
The Gunkanjima 3D Project is a project to record, preserve, and manage Gunkanjima using the research techniques of the Center for Infrastructure Longevity, which has been conducted by the Center since FY2009.
In 2014, at the request of the City of Nagasaki, we created 3D data of the entire Gunkanjima from aerial images taken by 3D laser scanners and unmanned aerial vehicles (drones) (hereafter referred to as "Gunkanjima 3D").
This 3D data was created from 28,000 photographs.
It is amazing that every detail has been reproduced so well!
Since Gunkanjima is currently weathered and damaged, it is expected that this 3D data can be used to study how much erosion and damage has progressed.
How to get to Gunkanjima
For those of you who would like to actually go there, here are directions on how to get there.
Gunkanjima cannot be entered by individuals on their own.
Until the island became famous, local fishermen used to take visitors there, but now it is not possible to go there except on a tour.
Please note that advance reservations are required and a consent form must be submitted.
You can download the consent form from the tour company's website and bring it with you, or you can fill it out at the reception desk on the day of the tour.
I will list four tour companies.
In addition to this fee, all of them require an additional facility use fee of [300 yen for adults and 150 yen for children].
Yamasa Shipping Company, Ltd.
Tel.095-822-5002
Fee 4,200 yen
150-minute course.
Seaman Trading Company
Tel.095-818-1105
Fees
Adults 3,600 yen
Junior high and high school students 2,800 yen
Child 1,750 yen
※Prices shown are with 300 yen discount coupon.
Click here to download the 300 yen off coupon.
This is also a 150-minute course.
http://www.gunkanjima-tour.jp/
Gunkanjima Concierge
Tel.095-895-9300
Fees
| | | |
| --- | --- | --- |
| | Weekdays | Weekend and holidays |
| Adult | 4000yen |  4400yen |
| middle and high-school students | 2,900yen |  3,100yen |
| elementary school student | 1,700yen |  1,900yen |
| Child | 800yen |  1,000yen |
This is another 150-minute course.
In this tour, the guide will carefully explain various aspects of the tour.
It is reputed to be quite an interesting story.
It is a good idea to listen to the guide's stories and enjoy the long boat ride on the Gunkanjima landing tour.
http://www.gunkanjima-concierge.com/
Gunkanjima Landing Cruise
Tel.095-827-2470
Fees
Adult 3,100 yen
Child 1,600 yen
This course takes about 3 hours.
The good thing about this tour is that it is the only tour that allows you to land not only on Gunkanjima but also on Takashima.
On Takashima, you can see a model of Gunkanjima at the Coal Museum.
However, this tour only takes you ashore on Gunkanjima and does not allow you to enjoy a round tour of the island.
If you want to enjoy the shape of a warship from the sea, another tour company may be better for you.
Regarding the landing rate, the official website states, "It is expected that the landing rate is about 100 days per year.
http://www.gunkanjima-cruise.jp/
A map of each company's embarkation locations are here. ↓↓

Notes
Clothing, shoes, umbrella
First of all, high heels and sandals are not allowed ashore.
It is best to wear sneakers or comfortable shoes.
Wear clothes that are easy to move around in.
Also, an important point is that umbrellas are not allowed, so be sure to bring a raincoat in case of weather conditions.
Landing rate
According to Nagasaki City ordinances, it is not allowed to go ashore on days with strong waves (0.5 meters or more), strong winds (5 meters per second or more), or poor visibility (500 meters or less).
If you cannot go ashore, the tour will be changed to a circular tour.
In such cases, the tour fee other than the 300 yen facility fee will still be charged.
(Yamasa Shipping will refund 10% of the tour fee.)
Looking at the annual landing rate, there may be many days during the summer when landing is not possible due to typhoons and other factors.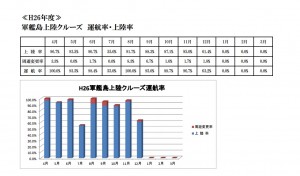 reference:Yamasa Shipping Official Website
Toilet
There are no restrooms on Gunkanjima, so use the one at the waiting area or on the ship.
Some boats have only one restroom, so be sure to use it beforehand.
Seasickness
Even though it is close by, Gunkanjima is in the open sea, so the boat may rock.
Remember to take anti-sickness medicine.
Conclusion
Did you enjoy this article?
Gunkanjima is the talk of the town right now! I would love to go ashore once, with a solid plan in place.